by Duane Ranger
The North Island's leading Auckland Cup and National Trot prospects emerged at Alexandra Park last night (Friday).
Last year's Auckland Cup runner-up Hughie Green was simply too big and strong for his six opponents in the feature pace, while Idle Bones set a New Zealand record in the R70 to R99 Trot.
They won their respective 1700m mobiles by three lengths and three-and-a-half lengths respectively. It was Hughie Green's 11th career win and Idle Bones' 12th and they paid $2.90 and $1.90.
Idle Bones and her trainer/driver Brent Mangos stopped the clock in 2:03.8 beating Allegro Agitato's 2007 national record for trotting mares by 0.7 of a second.
The grey Monkey Bones mare trotted a 1:57.2 mile rate and came home in 58 even and 29.5.
And it was a smart drive by Tony Herlihy (MNZM) who got Hughie Green home in the fourth event – the $14,000 Mitavite Mobile for the R83 to R106 rated pacers. Hughie Green was rated 106 prior to the race and that is why he started from the widest front-row draw.
"It was a nice drive by Tony. He got back and then got him into the one-one before securing the lead with just under a lap to go.
"He will stay on the horse now as we head towards the Auckland Cup on New Year's Eve," said Gareth Hughes, who trains the big lump of a horse with his father Bunty at Ardmore.
"If he didn't win tonight, you wouldn't think he would be much chop in the Auckland Cup. It was a must-win race and the big fella obliged," Hughes added.
Herlihy was having his first drive behind Hughie Green because regular pilot Maurice McKendry is now committed to the 4-year-old entire he trains – Shandale.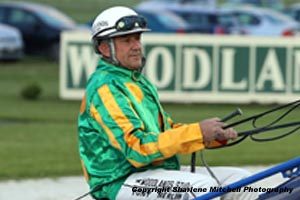 Herlihy notched up his 3,401st winner when Hughie Green stopped the clock in 2:00.3 (mile rate 1:53.9) and last half and quarter in 56.3 and 28.2.
Win number 3,400 came a race earlier when he trained and drove 5-year-old Monarchy gelding, King of The Roses, to a neck victory in the $14,000 Haras Des Trotteurs Handicap for the R36 to R71 trotters.
Maurice McKendry, who finished third in the race behind Hughie Green and Rocker Band (Samantha Ottley), is second on the New Zealand All-Time Driver's Premiership with 3,162 wins.
Hughes said Hughie Green had come through the race well and had eaten up everything last night. He will now target the Group Three $30,000 Summer Cup on December 9, the Group Two $40,000 Franklin Cup a week later and then the Group One $250,000 Trillian Trust Auckland Cup on December 31.
Co-owner and breeder John Green termed Hughie Green a disappointment up until last night. Earlier in the week he said if he didn't measure up in that race and in December the 5-year-old son of Art Major and Alta Serena would do his future racing in Australia.
"John is right in what he says. Even though he ran second in last year's Auckland Cup (in March) he hasn't won a Group or Listed race yet, so we can't get too far ahead of ourselves. Obviously the main target is to go one better in this year's Auckland Cup and with some of Mark's (Purdon) nice horses either spelling or at the Interdominions, we might have a chance," Hughes said.
Hughes said it was a matter of just improving the horse from now until the last day of the year.
"He's gone okay this time in without getting too excited but I must admit last night's win brought a few smiles to our faces," he said.
Meanwhile, Hughie Green's full sister, 3-year-old bay filly Hughie's Sister, was expected to make her first public appearance over the mobile mile at the Pukekohe Workouts today.
Hughes said she was a promising type just like the stable's other winner at Alexandra Park last night – 3-year-old American Ideal – Nicolosa filly, Kaitlyn.
"She's a nice little racehorse too, whom we have got an a bit of time for. She won her Workouts the week before and we thought she might go a bold race tonight.
"We were delighted with Maurie's drive and the way she won," said Hughes.
Kaitlyn, who was the $2.90 favourite, has now raced twice for a win and a third – both over the 2200m mobile at Alexandra Park.
She stopped the clock in 2:46.1 (mile rate 2:01.5 ) and home in 59.7 and 28 flat.
Footnote: There was sad news at Alexandra Park last night when people learnt of the death of Greg Bosma, who was in his 40s.
The jovial and long-time security employee (20-plus years) at 'The Park' sadly succumbed to cancer leaving this writer and many, many Alexandra Park patrons absolutely devastated.
(As seen on the HRNZ Website).