26 January 2017
By Duane Ranger
Josh Dickie is hoping he can notch up his 300th career win behind the best horse he has sat behind at Alexandra Park tonight (Thursday).
Speeding Spur will have his first start since April 22, when finishing second behind Monbet in the $100,000 Group Two Anzac Cup. He broke down soon after but Dickie believes he is now back to where he should be.
"It would be great to win my 300th race behind him because I've never driven a better horse than him. He's five now and from what we can see he is back to somewhere near his best," 25-year-old Dickie said.
"Speeding Spur is in race four. It could come earlier. I quite like Master George in the second race as well," the Clevedon trainer/driver added.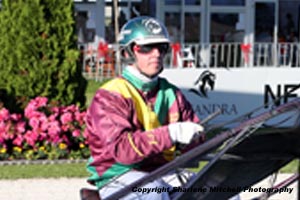 Dickie has driven 299 winners from 2,633 starters, and has placed 548 times for almost $2.9 million in stakes. His best season came in the 2014-2015 season when he saluted the judge 48 times and netted $589,125 in stakes.
He has reined 17 winners from 109 starters this season.
Dickie has four drives at the Auckland Trotting Club's first meeting for 2017, including one in the non-tote event at 6.05pm.
Here's what he had to say about the quartet:
Non-tote: Paramount King (1) – "We have got three 2-year-olds from our stable in the race, and I have opted for this gelding. All three have shown a bit and to be fair it's pretty hard to split them. They are all just there for experience. This fella has the better draw and trots okay."
Race 2: Master George (11) – "He won well when favourite at Cambridge on January 6. He felt real nice that night. I thought he trialled well at Pukekohe last Wednesday, albeit finishing three lengths in behind them. It's a handy C1 field, but he has worked well since then."
Race 4: Speeding Spur (11 – 55m) – "It's not going to be easy from the handicap but he won well from 40m behind at the the same Pukekohe Workouts last week. We think he's back to where he should be and if he does perform to our expectations he will then head to Australia to defend his Great Southern Star crown he won last year. It is a tough ask first up but we wouldn't be lining him up if we didn't think he could win. It's just so great to have the good horse back. I'll drive him cold for one run and we just hope he hits the line well, like he used to. If he does that then we will be booking our tickets to Melbourne."
Race 7: Kate Black (10) – "We have ironed out a couple of her problems since she broke down the back straight at Alexandra Park on December 16. She has worked nice since and comes into this race well. I think she's a nice chance. This is just her second run back since July and I wouldn't be writing her off here."
Best Winning Chance: Speeding Spur.
Each-Way: Master George.
Story as seen on the HRNZ Website.