By Duane Ranger
Waikouaiti trainer Amber Hoffman was ecstatic with her first career win at Alexandra Park last night.
The Otago horsewoman trained $5.10 second favourite, Break Dance, to win the 42nd running of the $20,000 North Island Breeders Stakes.
The 5-year-old Art Major – Wave Runner (Live Or Die) mare was driven by Jonny Cox in the Powell Transport sponsored time honoured event for 3-year-and-older fillies and mares.
"What a wonderful feeling," Hoffman said in the winner's circle moments after the race.
"I wish we had more horses like her back home that we could bring up here. She's the number one horse in the barn at present, even though she can be a bit of a head-case at times.
"I am so proud of what she has achieved tonight after a serious injury almost cost her racing career. I am so grateful for what Bernie (Hackett) and Michelle (Wallis) have done for her since she came up earlier in the month. This is their win too," Hoffman said.
Driver Cox said Break Dance possessed a lot of speed and had a lot of bottom to her, but at the same time she had a few tricks to her game.
"We had to put the jaw breaker on her tonight because she hung real bad last week and it did the trick tonight. She's a lovely filly who can only improve with better ringcraft," said Cox.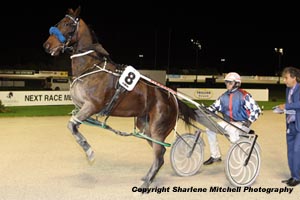 "She's very talented," he stressed.
Break Dance was having her second look at Alexandra Park after finishing a two-length eighth in a 3-year-and-older trot last Friday.
Last night Cox settled Break In back in the field from their wide front row (8) draw and then landed her in the one-one at the bell.
In the lane they had just enough stamina to get past Jo's Dream and Andre Poutama by half a length.
Break In paced the 2700m stand in 3:24.5 (mile rate 2:01.8) and last 800m and 400m in 55.6 and 27.2. It was Break In's fifth win in 37 starts and she was the $5.10 third favourite.
Comments from winning drivers in tonight's four Group One races are below.
The Group One $80,000 Breckon Farms 3yo Northern Trotting Derby:
Enghien (Ricky May) – "I took him to the lead to take all the luck out of it and he bowled along nicely in front. That's the way he likes to race. I tried to take the sting out of the race and he obliged doing it very easily."
The Group One $150,000 Magness Benrow Sires Stakes 2yo Fillies Championship:
Elle Mac (Natalie Rasmussen) NZ record (1700m mobile) 2:01.35 – "I was fairly confident throughout the race but she did pull between the 800m and 400m, but after that she felt great. She's still got a lot to learn and that will come with racing. That's four in a row now. She's a lovely wee filly."
The Group One $150,000 Canam Rowe Cup:
Temporale (MNZM) – "He began well and we got a lovely sit three-back. He's only four and has done a good job. I didn't think he would be quite this good so soon, but was hoping he would because Suzanne (wife) has a quarter share. The Jewels is the main aim with him now."
The Group One Dawson, Harford & Partners New Zealand Messenger 4yo Championship:
Lazarus (Mark Purdon) – "I was happy when he drew one because I wanted to lead but I didn't think we would get away with the cheap sectionals we did. He won very easily tonight and he deserves his break now. He's done a terrific job and we will probably see him again in September in readiness for the New Zealand Cup."