23 December 2016
By Duane Ranger
Nicky Chilcott said she was stunned to later learn that her 5-year-old gelding – Everything – paid more than $30 when winning Streamline Freight Maiden (up to R48) Pace at Alexandra Park last night (Thursday).
"I was staggered to hear that he paid that much. He certainly wouldn't have returned the price he did if people saw him trial at Cambridge last Saturday," trainer/driver Chilcott said.
Everything won that Up To R50 Maiden workout in 2:48.1. His winning mile rate for the 2200m mobile was 2:02.9 and he came home in 59.6 and 28.1.
Last night the son of Sands A Flyin and For The Girls (seven wins) paced the same distance in 2:45.2 (mile rate 2:00.8) and last 800m and 400m in 56.7 and 27.5. He was the $31.90 seventh favourite of 11.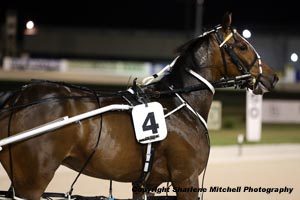 "I thought is he went like he did on Saturday he would give them a fright tonight. He worked real well and I thought he was spot on because he won that workout in nice time," Chilcott said.
Everything was having his third career start, and first since he finished 11th and then pulled up on August 14 and 20 respectively. He was the seventh and fifth favourites back then.
"He's taken a wee while to come to it but he's always gone pretty well at the workouts and trials. He was originally trained by Tony Shaw but when he gave up training Everything ended up at the Butchers (John and David).
"Then Les White, who works for me noticed that the horse wasn't doing much and I got the horse through him. He did a lot of his early work so the horse is a credit to him," Chilcott said.
The Cambridge horsewoman said Everything galloped on debut and then defibrillated next start. He was then turned out and has come back a new horse.
"I think he will win a few more without too much of an effort and after that who knows, but I don't think he's any superstar.
"But in saying that he felt tremendous tonight. He took a while to wind up but when he did he found another gear and picked them up and won quite easily in the end," Chilcott said.
"He actually won with plenty in hand," she added.
The promising brown gelding and Chilcott had three quarters of a length and a head to spare over Spooky (Andre Poutama) and Brother In Arms (Zac Butcher).
Everything was bred by Hambletonian Limited. He is owned by the Summer Fun Number 1 Syndicate.
"We formed the Syndicate because a lot of people wanted me to get them involved in racing. We have had a wee bit of success to date but nothing major.
"It's all about fun and affording what you can. Some of the 30 to 40 owners might only only a hair out of the tail but they will have fun. I'm sure they did tonight even though I didn't see too many on-course.
"A big shout out must go to Jess Smith because she made this Syndicate happen. She did a fantastic job helping me get owners for this horse," Chilcott said.
She said she would now look for a junior driver's race for Everything – probably on the Waipa grass next Wednesday.
"It's a big step up from maidens to C1s and I think the claim approach is the best one for this horse at this stage of his career," said Chilcott.
Meanwhile, spare a thought for Auckland junior driver, Andrew Drake, who lost two loved ones this week and then came out and won the first event last night behind the Logan Hollis & Shane Robertson trained Toot Toot.
His former Perth girlfriend took her own life on Monday night (December 19), and then his former workmate at Kade Howson and Rob Tomlinson Western Australia stable also committed suicide on Thursday.
"It's been a very tough four days. Alysha (Johnston) was 27 and Austin (Eddy) was 16. It's been a pretty unbelievable week with such tragic news of someone you use to love turning into an angel, and then a star-of-the-future turning into an angel as well.
"Austy and Lysh both drove Toot Toot with me tonight and I will never ever forget them," Drake said.
Drake is on target to achieve his best season in two and a bit years of junior driving. Last year he recorded a personal best six wins. Already this year the Ray Green employee has nailed four.
Story as seen on the HRNZ Website.