By Duane Ranger
It's taken Robert Argue seven months to drive his fourth career winner. Prior to that you have to go back to the 2010 to have seen him salute the judge.
But life has changed for Argue. He now a Dad to 3-year-old Brooklyn and works for one of the North Island's strongest stables.
"Life is great at the moment. My partner and I live in the new sub-division at Pokeno and I travel to Clevedon every day to work. I've always wanted to be a driver. I'm glad I decided to return to the game," the 25-year-old said.
At Clevedon he works for John and Josh Dickie at Rosslands Stud. He is also employed by Dave Iremonger at Morrinsville to drive his six-strong team.
And it was the Iremonger trained Soul Man that notched up Argue's first winner of the season when the 6-year-old Real Desire gelding won his second race in 24 starts at Alexandra Park last Friday night..
Soul Man was the $34.30, 11th favourite in the 12-horse field. Tenth favourite Speak Up (Peter Ferguson) ensured a $124 quinella.
"We just got there but he won well. It was a great feeling to finally get back in the winner's circle again. I'm just so appreciative to Dave for believing in me. I want to pay back all his owners' faith in me by driving well and winning as many races as I can," said Argue.
Argue was born and educated in Pukekohe High School but left at 15. His father Stephen has been a trainer since the early 1980s so it was always highly likely that Argue Junior was going to follow in his Dad's footsteps.
"I've been around horses all my life and used to help out Todd Macfarlane in the school holidays. That's when I got my first taste of fast work and I've never looked back since. I absolutely love what I do," Argue said.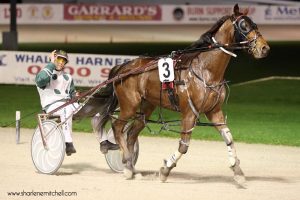 Since then he has worked for Geoff Small and Malcolm Shinn. He then returned briefly to Macfarlanes before laving the industry.
"I did scaffolding for a couple of years but I always knew trotting was in my blood and it wasn't until I was helping Dad do fast-work one day that he told me I still had it and should return to what I did best," said Argue.
"Dad got me back into it and I started with the Dickies last November. It was the best move I ever made," he added.
Argue said he would love to represent his country or Island at the New Zealand or Australasia Junior Driving Championships next year.
"If I keep driving winners then the rest will sort itself out. I just want to keep improving and maybe one day train a team with my father," Argue said.
He said the highlight of his career to date came behind the Stephen Argue trained Pureora Mac at Alexandra Park on June 16, 2009.
"Dad had just trained a winner and then he provided me with my first race-day winner as well. Dad has always been my mentor and inspiration.
"He works part-time at Fiskens and only has two horses in work so I can get drives. I respect what he's doing for me. In fact I am grateful to all the owners and trainers who put me on their horses.
"Like all juniors out there we just need a chance to prove ourselves," Argue said.
Argue has had 157 drives since the 2008-2009 season, including four wins, eight seconds, 13 thirds and he has won $48,091 in stakes. His UDR strike rate is 0.814.
(As seen on the Harness Racing New Zealand website).